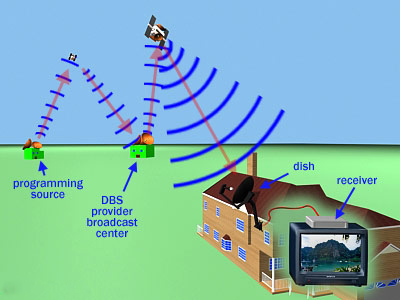 There are two standards for DTH internationally: European standard DVB-S and American standard DigiCipher. But the DVB standard is gradually used widely throughout the world. The Dish Network of American DTH company newly grew also adopts this DVB standard.
DTH system consists of 6 parts
Headend system
Headend system is mainly composed of Video Audio Compression Encoder, MUC etc. The main function of headend system is to do digital coding and compression, which uses statistical multiplexing technique to transmit more programs on restricted satellite transponder band. According to MPEG-2 standard, DTH compresses the Video and Audio signal, this can transmit up to 10 sets TV programs on a 27MHz transponder with dynamic statistical multiplexing technique.
Transmitting and Uplink system
Transmitting and Uplink system includes the communication equipment from headend to uplink terminal and uplink equipment. Its transmitting method mainly consists of midband transmitting and digital baseband transmitting.
Satellite
DTH system adopts DBS with high power or communication satellite. Because of technique and cost etc, some DTH systems adopt communication satellite with high power. The DTH Company inAmericaandCanadaadopt more appropriate special DBS with high power.
SMS system
SMS system is the heart of DTH system, which is mainly to complete the following functions:
Register and manage users' information.
Purchase and pack the programs.
Set out charging standard of programs and charge at users.
Market prediction and management.
SMS system is mainly made up of database management system andCallCenter. Database management system is for users' information and program information, andCallCenteris to answer customers' questions and provide customer service.
CA system 
CA system has two main functions:
Data encryption for programs.
Authorization to programs and users.
The CA system DTH system adopts at present are mainly: America NDS, Israel Irdeto, French viaAccess,SwitzerlandNagra Vision and so on.
America Direct TV company and Canada Star Choice company adopted Direct TV technique all use NDS CA system; while America Dish Network(Echostar) and Canada Bell ExpressVu adopted Echostar technique all use Nagra Vission CA system.
IRD system
DTH IRD is comprised of a small dish satellite receive antenna, IRD and Smart Card.
IRD mainly take charges of four functions:
Decode the program data stream, and output it to the TV set.
Decode with the key in Smart Card.
Receive and handle all kinds of user command.
Download and handle all kinds of applications.
The IRD in DTH system hasn't been simple hardward equipment, which also includes operation system and plenty of applications. At present, Open TV is a more successful one in IRD operation system. America Dish Network has begun to update the IRD system to Open TV system gradually.