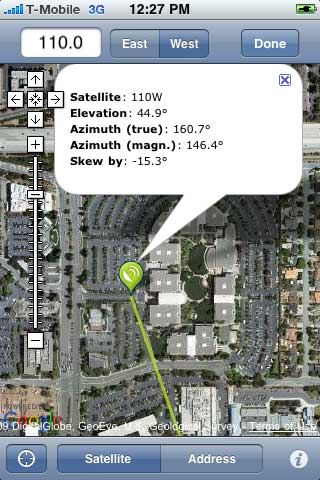 We'd like to share with everyone a useful APP, named DishPointer Maps, which makes aligning satellite dish easily and conveniently. This app has been released on iPhone/iPod Touch. and doesn't need to open in the browser any more, which saves much time really.
This app has the following features:
1.Work with any satellite(Just input the satellite position, choose it's east or west and press the Done button at the top right.
The new alignment line will be drawn automatically;
2.Alignment info: By tapping the marker, you'll get alignment information including actual azimuth, magnetic azimuth (when using a compass) elevation, and inclination
angle of the LNB or the dish. The inclination angle gives BY how much you have to wheel it and is positive CW when standing behind the dish.
3.Auto location updating;
4.Location searching;
5. Map types;
6.Gestures enabled etc.
To know more details about it, just get the app.