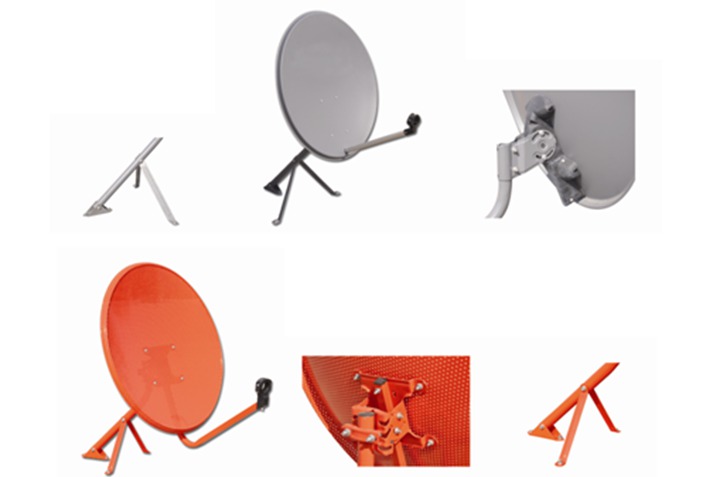 60cm Satellite Dish adopts 0.6mm superior steel plate and once mold punch forming reflector, precision automatic manufacturing equipment machining pedestal and support, rust-protection and unoiling craft, special polyester powder surface spraying. The 60cm Satellite Dish won't have painting peel off in 5 years. 60cm Satellite Dish feed design, manufacturing and testing strictly follows corresponding standard files, performance inspection follows process documents by QCD, and each warehouse-out product is ensured qualified.
Features
◆ Precision shaped offset antenna with one-piece panel
◆ High gain and surface efficiency
◆ Fines Az/El adjustment with high accuracy
◆ Special paint process offers excellent protection from weather-related corrosion.
◆ Suitable for ground/wall/roof mount
◆ Easy to transport and deploy
ELECTRICAL SPECIFICATION
Diameter
60*66.2cm
60*66.2cm
60*66.2cm
Ku-Band Gain@11.95GHz
36.0dBi
36.0dBi
36.0dBi
F/D Ratio
0.58
0.58
0.58
Focus Length
34.8
34.8
34.8
MECHANICAL SPECIFICATION
Surface Efficiency
≥70%
≥70%
≥70%
Material
Normal Steel/Galvanized steel/Aluminum
Installation type of feed
Wall mounted(Three-arm support)
Elevation Adjustment
25~90°
0~90°
5~85°
Azimuth Adjustment
0~360°
0~360°
0~360°
ENVIRONMENTAL SPECIFICATION
Wind loading

Survival wind:20 m/s

Maximum:45 m/s

Temperature

Survival temperature: -40°C~+60°C

Maximum:-45°C~70°C

Climatic condition
Adapt to humid, salty and polluted climate environment
Weight(includes bracket)
2.8kg