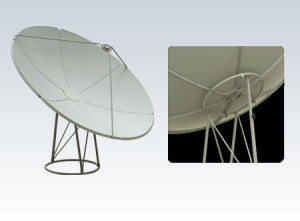 160cm TV Satellite Dish reflector adopts 0.6mm thick high-quality steel plate after once punch forming of mold. The 160cm TV Satellite Dish pedestal and support legs etc. are all manufactured by precise automation equipment firstly,  secondly dealt with anti-corrosion and degreasing craft, finally surface treated with special polyester powder spraying to guarantee the reflector painting not remove in five years. Meanwhile, 160cm TV Satellite Dish feed is designed, manufactured and tested strictly following the standard documents. All performance testing of 160cm TV Satellite Dish are all done by QCD according to related technological document to ensure every delivery antenna is qualified.
Features
◆ High gain and surface efficiency
◆ Fines Az/El adjustment with high accuracy
◆ Special paint process offers excellent protection from weather-related corrosion.
◆ Suitable for ground/wall/roof mount
◆ Easy to transport and deploy
ELECTRICAL SPECIFICATION
Diameter
160cm
C-Band Gain@4GHz
33.36dBi
F/D Ratio
0.385
Focus Length
61.6cm
Panel(Sector Diveded)
6
Material
Steel
Elevation Adjustment
5~90°
Azimuth Adjustment
0~360°
ENVIRONMENTAL SPECIFICATION
Wind loading

Operational Wind Speed:25 m/s

Survival Wind Speed:60 m/s(Maximum)

Temperature

Survival temperature: -40°C~+60°C

Maximum:-45°C~70°C

Climatic condition
Adapt to humid, salty and polluted climate environment